I have to postpone
starting a family
Do any of these situations apply to you?
I have to focus on my career and I want to postpone starting a family
I have no partner willing to start a family.
I have a newly identified oncological disease and I have to start treatment immediately.
I suffer from a chronic disease and pregnancy is not currently recommended by my gynaecologist.
I want to preserve germ cells for future use for other reasons.
What does the process involve? Why does it make sense to be rational and prudent?
Postponing parenthood until a later age is a problem for sociologists, geneticists and reproductologists throughout the civilised world. So-called "social freezing" is becoming a popular way to retain the chance of giving birth to your own offspring. A person may have personal or social reasons for doing this, or he/she may be facing an oncological disease that would substantially decrease their chances of giving birth to a child. A rational and prudent attitude is the prerogative of every thinking person.
How can we make an appointment?
Using a form:
appointment form: (here)
Before making an appointment, please have ready your
date of birth;
contact phone number;
e-mail address;
date of the start of your last menstruation
What you should know:
Your communication over the phone or by e-mail will be with your IVF coordinator, who will be your guide and first point of contact during your visits to the ARLETA clinic.

Since this situation affects both couples and individuals, you can contact us either in pairs or individually.

Anyone who produces germ cells, and is convinced that his/her situation warrants the prudence to take such step, may ask to have their germ cells frozen so that they could one day conceive a child using assisted reproduction techniques

We do not require any recommendation from your gynaecologist, but we do recommend that you inform him/her, since you will remain in their preventive care and we will need their cooperation.

Bring with you all your written records and results relating to your health.

If you suffer from an acute or chronic disease, we advise that you get a specialist's statement regarding your future pregnancy.

Currently, we are able to offer your first appointment within 3 to 6 weeks after your first contact. However, in the case of emergency, we are able to offer you an appointment on the same day when such emergency (i.e. danger because of the risk of delay) arises.
Questionnaire
Why a questionnaire?
Based on the filled-in information, the doctor will draw up some working hypotheses before your first appointment

Targeted questions during the interview help to particularise your life story.

Details and observations from your previous life can also often be important for making right choices.

In emergencies, where any delay would be critical, completing the questionnaire is unnecessary.
Interview with the doctor
Why is it important to talk about the problem?
During the appointment, an intimate relationship is created between the doctor and the couple; this relationship should be open and empathic on both sides.

Every problem has its "story" and the doctor has the ability to assess the important moments of your life that could be decisive for your strategy moving forward.

You must bear in mind that the specialist's opinion may be pessimistic with respect to conception using your own sperm or eggs, i.e. protecting your fertility may not be possible, especially due to age or already commenced chemo- or radiotherapy.

For our foreign clients we offer consultations with a doctor via Skype.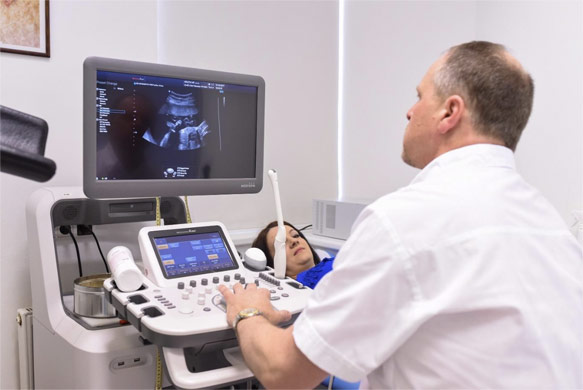 Diagnostic methods
Which specialist examinations are included in your first appointment?
gynaecological examination, colposcopy
cytology, chlamydia screen, if indicated
vaginal ultrasound scan

hormonal profile, examination for sexually transmitted diseases

semen analysis
Description of treatment methods
Taking sperms, their examination, washing and freezing.
Controlled ovarian stimulation, taking of eggs and their freezing: ovarian stimulation by gonadotrophins, follicular puncture and freezing (vitrification) of mature oocytes
Gonad protection via GnRHa antagonist and agonist treatment.
We guarantee preservation of germ cells for 10 years.
Vitrification of eggs substantially enhances prospects for successful assisted conception in future.
Who will participate in your treatment and how?
The ARLETA team has clearly defined rules and roles for particular employees and departments
You will meet individual employees in this logically arranged team as you progress through the ARLETA Reproductive Health Centre.
The doctor selects the type of controlled ovarian stimulation.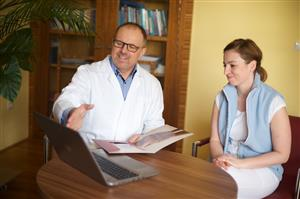 The IVF coordinator will explain in detail the process and the step-by-step schedule, and draw up a price offer.
A nurse will administer medication to prepare and stimulate you and your coordinator will advise on their application, dosage and explain possible effects on your body.
The IVF coordinator takes care of payments and issues invoices, plans your follow-up appointments, looks after you and your family members in the waiting room, helps to organise your arrival at the surgery and brings you to the scrub nurse for surgery.
The embryologist will acquaint you with the quantity, maturity and quality of your eggs and sperm after they have been acquired.

How much will you pay?
You will be told the final price before the germ cells are taken.
To better understand the price, we have prepared a list of items that may apply to you.
Your IVF coordinator will explain all items to you and inform you how much they cost.

The doctor may offer a discount to oncology patients.
MEN – SPERM FREEZING FOR FUTURE USE
Sperm cryopreservation

280 EUR*

Price for sperm freezing
280 EUR*
WOMEN – SOCIAL FREEZING OF EGGS – FOR PRIVATE CLIENTS
Stimulation medicine

960 EUR

IVF basic – cycle stopped after oocyte pick-up (OPU)

720 EUR

Egg cryopreservation

590 EUR*

Price for egg freezing

2270 EUR
*The ARLETA clinic contributes EUR 200 for oncology patients.
Success rate
Is it really possible that my germ cells will be usable? What guarantee do I have?
We cannot promise a 100% success in the birth of your child, but we will definitely be successful in creating embryos in future.

We are convinced that your decision is right and that this step will help you to increase your chance of having a child in future

.

Success depends on the age of the woman at the time of freezing, or on the quality of sperm.