We want to start a family
Do any of these situations apply to you?
we want to approach parenthood responsibly

we need advice how to change our life-styles, how to get rid of our bad habits
we don't know how to time conception after discontinuing contraception
we want to know more about how our living and working environment influences the early development of the embryo and foetus
I suffer from a chronic disease; I take medicine regularly
we have a problematic family or personal medical history
we have a mutual sexual problem; there is a sexual mismatch in the relationship
I have experienced failure to conceive or carry to term in a previous relationship
What is the point of contacting the doctor?
The reason for making an appointment with a doctor is to assess the conditions for a successful planned conception. Your first appointment includes a discussion with the doctor, examination of both the woman and the man, and an assessment of their fertility.
How can you make an appointment?
Using a form:
appointment form (here)
Before making an appointment, please have ready your
date of birth
contact phone number
date of the start of your last menstruation
What you should know:
Your communication over the phone or by e-mail will be with your IVF coordinator, who will be your guide and first point of contact at our clinic.

We do not require any recommendation from your gynaecologist, since in most cases this is only a single appointment.

However, bring with you all your written records and results relating to your health.If you suffer from a chronic disease, we advise that you get a specialist's statement regarding your future pregnancy.

Currently, we are able to offer you a first appointment within 3 to 6 weeks after your first contact.
Questionnaire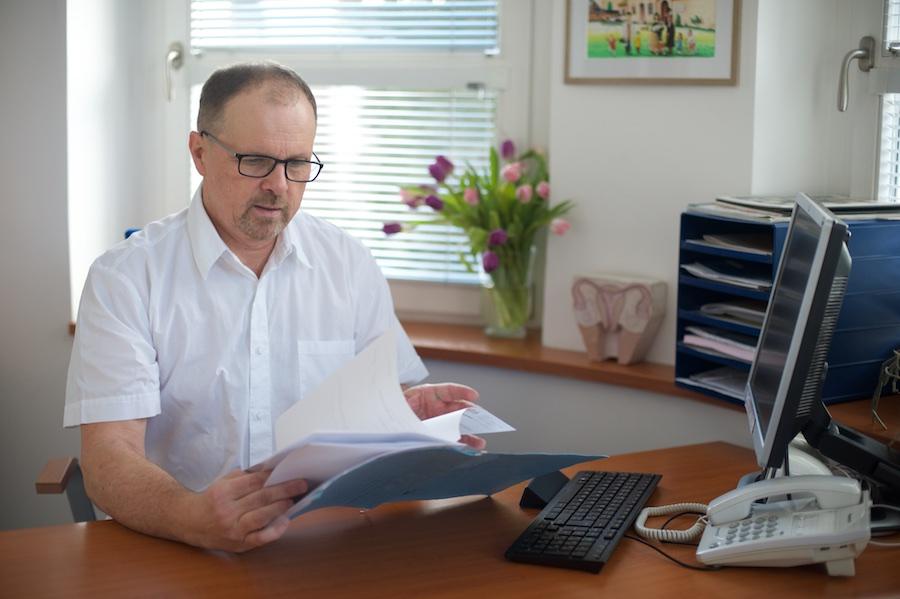 Why questionnaire?
The doctor will familiarise himself/herself with your situation based on the information received before your first appointment and will draw up some working hypotheses.
Targeted questions during the interview will help eliminate possible infertility factors or particularise the diagnosis.
Details and observations from your previous life are often very important, since they may help reveal the possible problem.
Interview with the doctor
Why is it important to talk?
During the appointment, an intimate relationship is created between the doctor and the couple; this relationship should be open and empathic on both sides.
Every problem has its "story" and the doctor has the ability to assess the important moments of your life that could be exercising a decisive influence on your fertility problem.
The doctor may express his/her first working hypotheses at the end of the first appointment, which then must be verified by diagnostic tests.
You should keep in mind that the specialist's opinion may be pessimistic with respect to conception from your own sperm or eggs.
Be prepared for the fact that we will be interested in your family background, relationships with previous partners, children, parents and also speak about your life plans, what you have succeeded in or failed to achieve in your life.

Discussing your working environment, regime, bad habits or habits and problems in your sex life are also essential.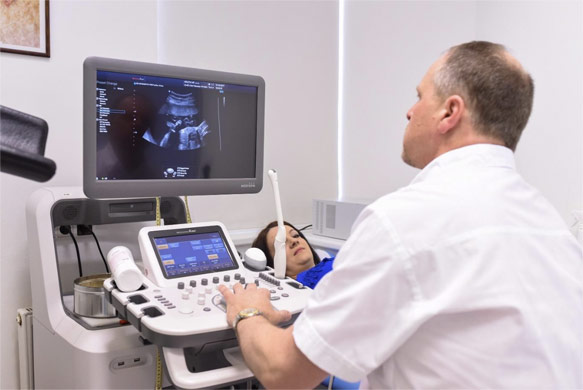 Diagnostic methods
Which specialist examinations are included in your first appointment?
gynaecological examination, colposcopy
cytology, chlamydia screen, if indicated
vaginal ultrasound scan
semen analysis
woman's hormonal profile
Appointment conclusion and prognosis
Based on the information obtained and after assessing the couple's fertility, the doctor will express his/her prognosis of possible conception.

We may recommend changing your life-style, getting rid of bad habits, even changing your job or taking sick leave, should it be necessary and feasible.

If there is a suspicion of a fertility problem, we recommend the couple be examined early in a counselling centre or we add other specialist examinations.

If the doctor identifies a serious fertility problem in one of the partners, you will be transferred to the treatment programme described in the section "We are unable to conceive a child".

At their own discretion, the couple informs the clinic about their conception after the first appointment.
Which examinations may be recommended by the doctor after the first appointment?
outpatient mini-hysteroscopy
endocrinology examination in the case of a thyroid disorder or adrenogenital syndrome